Why Is Everest Base Camp So Popular For Trekking? Why should I take the Everest Base Camp Trek-14 days?
An incredible high mountain in the Khumbu Valley overshadows the famous trek route that leads to the Everest Base Camp Trek Region. It is fondly revered as Sagarmatha by the local Nepalese. The iconic summit of Everest sits at an astonishing altitude of 8,848.86 meters (29,029 feet). This means that trekking to the base camp is by no means a simple feat.
The Everest Base Camp Trek 14 Days adventure takes us back in time. Sir Edmund Hilary and Tenzing Norgay Sherpa were the first to scale the summit of Mount Everest in 1953. Since then, hundreds of travelers and adventure junkies visit Nepal every year to catch a glimpse of the Himalayas and leave an indelible mark in the history books. This exemplary route is penned by many as "the road to heaven." Every curve that you come across in the trail is a story of photogenic beauty and class.
Everest Base Camp Trek package 2023–2024: Explore Everest Base Camp the Legends Way: "World high peaks with interesting names: Peak XV, Sagarmatha, Chomolungma, and the Third Pole." The 14-Day Everest Base Camp Trekking Trail is an adventurous poetic tale of beautiful forests, Sherpa villages, glacial moraines, and foothills. The seduction of a trek to Everest Base Camp is too hard to resist. For ages, there has been a plethora of adventure activities for travelers all around the world. It is known to the world for its splendid ups and downs that stretch consistently throughout the 65- to 70-mile trek.
The good thing is that we will be hiking with light day packs en route, supporting the local communities. This trek is for active adventure seekers who are ready to defy all the odds and are not afraid to be there despite the odd difficulties. Moreover, our knowledgeable trekking staff will bring you close to local cultures before introducing you to the top of the world.
Trekking Planner Inc has a highly decorated and prolonged history in this region of Nepal. We have been running treks and expeditions for the past two decades and started our own company based in Kathmandu. Rest assured that you will always be in good hands with excellent travel advice. Besides that, tips on weather conditions what to expect, how, and where come naturally to us. We also provide trekking permits prior to your trekking journey in Nepal.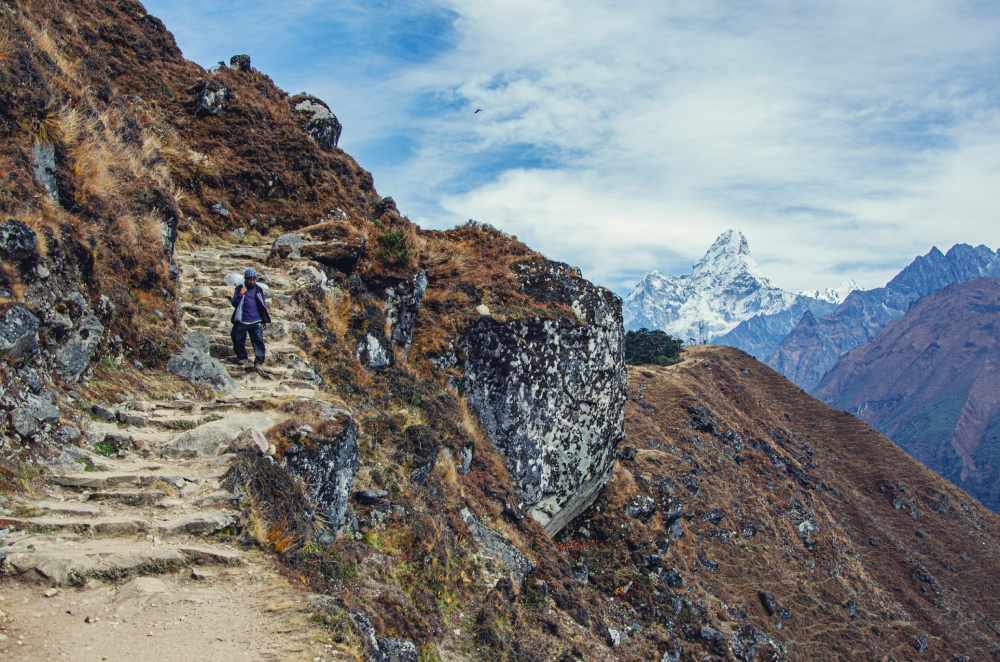 Where Does the Everest Base Camp Trek Actually Start From?
14 Days Everest Base Camp Trekking Trail Journey is not an ordinary tour but a historical journey of a lifetime. This absorbing and delightful trek is a tale of rugged Himalayan trails, embellished snow-capped peaks, snowy glaciers, and Sherpa heritage. It introduces you to some of the world's highest mountains, including Mount Everest, Lhotse, Nuptse, Ama Dablam, and Cho Oyu.
Above all, you get to witness the traditional lifestyle of the Sherpas and enjoy their warm hospitality. The Everest Base Camp Trekking journey starts with a scenic flight from Kathmandu to Lukla. A brisk 40-minute thrilling adventure flight passing through the Himalayan landscapes and the mighty mountain ranges is a delight.
Once you touch down at Lukla's renowned Tenzing Hillary Airport, you will take the trekking trail that leads you towards the bank of the Dudh Koshi River. Moving on, you will be walking past several Sherpa villages, including Phakding, Benkar, and Jorsale.
After crossing all these villages, you will finally arrive at the bustling mountain city of Namche Bazaar. To regain our energy after a long walk, we acclimatized at Namche. The following morning, we continue through the pine forest that leads us to Tengboche. The tiny hamlet of Tengboche has one of Khumbu's largest monasteries. The village of Tengboche also offers a stunning view of Ama Dablam, Mt. Everest, and Nuptse.
Further on, you continue your trek to Dingboche, walking past several villages, mani walls, and chortens. Dingboche is another point where we make an ideal stopover after Namche Bazaar. Next, we head towards Lobuche. From here, the trail becomes a bit drier, and the mountains start to appear very close as we tread and pass through the ancient stone-walled villages. It is here that we will find adorned stone shrines built in memory of the dead climbers who lost their lives.
As you continue walking, you will come across the moraine of the Khumbu Glacier towards Gorakshep. From this very rocky terrain of Gorakshep, you'll get the first glimpse of Everest Base Camp. Early the next morning, it is meant for hiking up to the Kala Patthar. This iconic viewpoint at 5364 meters gives you a 360-degree panorama of the high Himalayas. These are Mt. Everest, Nuptse, Pumori, Changtse, and so on.
The surrounding peaks are extraordinary, and wherever you look, you will be bedazzled by their chemistry in tune with nature. After spending quality time here, we leave Kalapatthar and retrace the rugged route back to Lukla. This marks the end of our legendary 14-day Everest Base Camp Trek up into the sublime mountains. Come join Trekking Planner Inc. and be a part of this splendid journey. It's a chance of a lifetime to witness the different colors of the Himalayas up close, like nowhere else in the world.
How Difficult or Easy Is Everest Base Camp Trekking? Is it the right trek for me?
Everest Base Camp Trekking is a trek for avid adventure seekers. It is not an easy task, but it is not difficult either. The 14-Day Everest Base Camp Trek itinerary is designed for novice trekkers who possess sound health and average physical fitness. If you are able to walk up and down carrying some weight on your back, then it won't pose any kind of challenge as such. However, the key to its success depends on how well you execute your plans, backed by your instinctive drive. If you are not under any prolonged medication or suffer from serious illnesses, then you need not worry. In such a case, this trek will not only be rewarding but also turn out to be the best experience of your life. If you are looking for a bigger challenge or an adrenaline-bound adventure, then we have multiple thrilling adventures in store for you. We have the off-the-beaten-track 21 Days Everest Three Pass Trek. For time-bound trekkers, Everest Base Camp Short Trekking for 12 Days would be the one to go for.
What Kind of Food Do I Get To Eat During The Everest Base Camp Trek?
You need not worry about your food while trekking to Everest Base Camp with us. We provide a variety of eating opportunities on treks throughout the Himalayas. Vegetarian, vegan, and gluten-free meals can be catered for upon request, and other special diets can be included with prior notice.
Besides that, we also take special care about the kinds of meals that we serve. As trekking in the Himalayas requires energy, we include superfoods in our meals. This ensures and at all times keeps you fit and healthy while also assisting in acclimatization to high altitude. In breakfast, you get to eat bread, eggs, porridge, cereals like muesli and corn flakes, pan cake, hash browns, fries, chapattis, etc. During lunch and dinner, your diet includes some vegetables (limited options), spaghetti, pizza, noodles, sandwiches, soup, Momo, etc. Nepali-style diet, "Daal Bhat," and pickles are very common and can be found everywhere. You can also find simple choices for hot beverages that include different types of tea, coffee, hot chocolate, hot lemon honey, etc. In some places, you can also find simple dessert menus that include apple pie, chocolate roll, custard, and pudding to have a go at.
Where Do We Sleep During the 14 Days Everest Base Camp Trek? What is the accommodation like?
Accommodation is always an area of concern and one of the most important things that you need to consider while trekking. During the Everest Base Camp Trek, you will find numerous teahouses, lodges, and hotels that provide accommodation facilities. Basically, you'll find twin-basis-type accommodations on the Everest Base Camp trekking trail. Most single rooms offer twin beds with some basic furniture like a small table or a chair. Besides that, the beds contain pillows and sheets. Generally, all tea houses provide blankets, as it will be freezing at night. As you will be heading to one of the most remote places, knowing how to find accommodation is extremely vital.
Which Are the Best Months to Visit Everest Base Camp?
Generally, there are two distinct types of trekking seasons in the Himalayas. The first is during the spring months of February, March, April, and May. These are the months when the weather starts to get pleasant, the ice starts to melt away, and the days become longer. The average temperature ranges between 7 degrees Celsius and -12 degrees Celsius. This makes it a favorable month for trekking.
The autumn months (late September, October, November, and December) are equally great for trekking. The autumn season generally sets in around mid-September. The crisp air and bright blue skies, along with a clear view of the towering mountains, make the scene more alluring while trekking. The average temperature ranges from -10 degrees Celsius to 17 degrees Celsius.
It is possible to make the journey in January and early September, though it's not frequented by trekkers in large numbers. Ideally, the best months start in March, which spans through late October and November. However, it is always advisable to have extra days on hand. As the weather is unpredictable and there might be weather delays halting your trek forcibly.
How to prepare physically, mentally and altitude wise for a 14 days Everest base camp trek?
Preparing for 14 Days Everest Base Camp Trek requires a combination of physical, mental, and altitude acclimatization preparation. Here are some steps you can take to get ready for the trek.
Physical Preparation for Everest base camp trekking.
Start exercising regularly at least 3-4 months before the trek. Focus on building cardiovascular endurance, strength, and flexibility. Activities like hiking, running, cycling, and yoga can help.
Increase your endurance and strength gradually to avoid injury.
Carry a backpack while training with weights to get used to carrying the weight of your gear during the trek.
Try to train in similar terrain conditions, such as uphill and uneven trails.
Mental Preparation for Everest Base camp Trekking.
Mental preparation is essential to keep you motivated and focused during the trek.
Visualize yourself successfully completing the trek.
Practice mindfulness techniques like meditation or breathing exercises to reduce stress and anxiety.
Altitude Acclimatization for Everest Base Camp Trekking.
The high altitude can affect your health, so it is essential to acclimatize properly.
Plan to spend a few days in Kathmandu to allow your body to adjust to the altitude.
During the trek, take rest days to acclimatize and avoid overexerting yourself.
Drink plenty of fluids to stay hydrated.
Avoid alcohol, caffeine, and smoking as they can dehydrate you and make altitude sickness worse.
It is also essential to have the right gear, including comfortable and sturdy trekking shoes, warm and waterproof clothing, a sleeping bag, and a backpack. Hiring an experienced trekking guide and porter can also make the trek more comfortable and safer.
Overall, preparing physically, mentally, and altitude-wise for the Everest Base Camp trek will require time and effort, but it will help ensure a safe and enjoyable experience.
What is Altitude Sickness and how to avoid altitude sickness during Everest base Camp Trekking?
Altitude sickness is a common problem that many trekkers face during the Everest Base Camp Trekking. It occurs due to the decrease in oxygen levels as you climb higher, which can cause mild to severe symptoms such as headaches, nausea, dizziness, fatigue, shortness of breath, and even death in severe cases. Here are some tips to prevent altitude sickness during the 14 Days Everest Base Camp Trek:
Proper Acclimatization. : Take time to acclimatize properly at higher elevations by ascending slowly and taking rest days to allow your body to adjust to the altitude.
Hydration. : Drink plenty of fluids, at least 3-4 liters of water per day, to prevent dehydration.
Medications. : Consider taking medications or having a lot of garlic soups along the trail which can help prevent altitude sickness by stimulating breathing and reducing the symptoms.
Proper Nutrition. : Eat high carbohydrate and high-calorie foods to provide your body with the energy it needs to trek at high altitudes.
Listen to your body. : Pay attention to your body and take a rest if you feel any symptoms of altitude sickness. Do not push yourself too hard to avoid worsening your condition.
Consult a doctor. : If you experience severe symptoms of altitude sickness, such as loss of consciousness or extreme shortness of breath, seek medical attention immediately.
Overall, it is essential to take altitude sickness seriously and take the necessary precautions to prevent it during the Everest Base Camp Trek. Proper acclimatization, hydration, nutrition, and medications can help you stay healthy and enjoy the trek without any complications.
Optional Activities to do in Kathmandu Before or After Your 14 Days Trek to Everest Base Camp?
Kathmandu is a vibrant city with a rich cultural and historical heritage. There are plenty of optional activities you can do before or after your 14-day trek to Everest Base Camp. Here are some suggestions:
Explore the City.: Take a day or two to explore the city's cultural and historical landmarks, such as the UNESCO World Heritage Sites of Pashupatinath Temple, Bouddhanath Stupa, Swyambhunath Stupa (also known as Monkey Temple), and Durbar Squares in Kathmandu, Patan, and Bhaktapur.
Visit Museums.: Visit museums like the National Museum, the Museum of Natural History, and the Hanuman Dhoka Museum to learn about the history and culture of Nepal.
Experience Nepalese cuisine. : Try traditional Nepalese food, such as momos, dal bhat, and Newari cuisine at local restaurants and cafes.
Take a cooking class. : Learn to cook Nepalese food by taking a cooking class at a local cooking school.
Shop for Souvenirs.: Explore local markets and shops to buy traditional handicrafts, textiles, and souvenirs.
Go on a Mountain Flight.: Take a scenic flight over the Himalayas to get a panoramic view of the world's highest peaks, including Mt. Everest.
Go on a White-Water Rafting Trip. : Take a day trip to go white water rafting in the Trishuli River or Bhote Koshi River.
Take a Yoga or Meditation Class. : Join a yoga or meditation class to rejuvenate and relax before or after your trek.
Overall, there are plenty of exciting activities to do in Kathmandu before or after your trek to Everest Base Camp. These activities can help you get a deeper understanding of Nepal's culture and heritage, relax and rejuvenate, and make your trip a memorable one.
Important Reminder.
There are trip departures available every day of the year.
You may entirely personalize this journey. If you want to alter the itinerary, please get in touch with us.
Both a scheduled departure and a private group option are available for this trip.
You can reserve this trip privately if you're traveling alone or with your family.
Have a sizable crowd? We are able to fulfill any of your needs.
In order to make it inexpensive, we can work with you.
Instant bookings and online payments are both accepted.
Weather and Climate during Everest base camp trekking.
The weather and climate during the Everest Base Camp Trek can vary greatly depending on the time of year you plan to go. Here is an overview of the weather and climate during the Trek:
Autumn (September to November). : Autumn is the most popular time to trek to Everest Base Camp because of the clear skies and mild temperatures. The daytime temperature ranges from 0°C to 10°C, and the nighttime temperature can drop to -10°C (14°F) or below. It is usually dry with occasional showers, and the visibility is excellent.
Winter (December to February).: Winter is the coldest and driest season in the Everest Region, with temperatures ranging from -0°C to 5°C. The visibility can be poor due to fog and snow, making it challenging to trek. However, the crowds are much thinner, and the views of the snow-capped peaks can be stunning.
Spring (March to May).: Spring is the second most popular time to trek to Everest Base Camp. The temperature during the day ranges from 0°C to 10°C , and the nighttime temperature can drop to -5°C (23°F). It is usually dry and sunny with occasional showers, and the visibility is good.
Summer (June to August).: Summer is the monsoon season in Nepal, and the weather is hot and humid with heavy rainfall. The temperature during the day ranges from 0°C to 10°C, and the nighttime temperature can drop to 0°C to -5°C (41°F to 50°F). The trails can be muddy and slippery, and the visibility can be poor due to clouds and rain.
Overall, the best time to trek to Everest Base Camp is during the autumn or spring season when the weather is dry and the visibility is good. However, with proper preparation and gear, you can trek during any season.
Everest base camp area-Local Culture and Religion.
The Everest Base Camp Area is home to various ethnic groups, including the Sherpa, Tamang, and Rai. These communities have a unique culture and religion, which has been shaped by their location in the Himalayas and their proximity to Tibet.
Religion.: The predominant religion in the Everest Region is Buddhism. You will see many monasteries, prayer flags, and chortens (stupas) along the trekking trail. The most famous monastery is Tengboche Monastery, which is located at an elevation of 3,867 meters and is the largest monastery in the Khumbu region. The monks in the monasteries offer blessings to the trekkers before they continue their journey.
Festivals.: The Sherpas celebrate various festivals throughout the year, including the Mani Rimdu Festival, which takes place in Tengboche Monastery in October or November. The festival is a celebration of Buddhism, and the monks perform mask dances to ward off evil spirits.
Traditional Dress.: The Sherpas and other ethnic groups in the Everest Region have their traditional dress, which includes a long-sleeved shirt, a long skirt, and a colorful apron. The dress is made of wool and is designed to keep the wearer warm in the cold Himalayan climate.
Food.: The traditional food of the Sherpas includes dal Bhat (lentil soup and rice), tsampa (roasted barley flour), and thukpa (noodle soup). The Sherpas also drink a lot of butter tea, which is made from tea leaves, yak butter, and salt.
Architecture.:The traditional Sherpa houses are made of stone and wood and are designed to withstand the harsh Himalayan weather. The houses have a distinctive flat roof, which is used to dry food and clothes. You will also see many mani walls, which are made of stones inscribed with Buddhist Prayers.
Overall, the local culture and religion of the Everest Base Camp Area are unique and fascinating. As a visitor, it is important to respect the local customs and traditions and to learn about their way of life.
Is travel insurance required for doing the 14 Days Everest Base Camp Trek?
Yes, it is highly recommended to have travel insurance when trekking to Everest Base Camp for 14 Days. Trekking at high altitudes comes with inherent risks such as altitude sickness, injuries from falls, and other medical emergencies. Travel insurance can provide coverage for these risks and give you peace of mind during your trek.
When selecting travel insurance for the Everest Base Camp Trek, make sure to check the policy covers the following:
Emergency medical expenses: Make sure the policy covers emergency medical expenses, including helicopter evacuation if necessary.
Trip cancellation or interruption: In case you need to cancel your trip due to unforeseen circumstances, such as illness or family emergency.
Baggage and personal effects: Coverage for lost or stolen baggage and personal effects during your trip.
Adventure activities: Make sure the policy covers adventure activities such as trekking at high altitudes.
Emergency medical evacuation: In case you need to be evacuated from the trekking route due to an emergency.
It is also recommended to purchase travel insurance from a reputable insurance provider and to thoroughly read and understand the policy before purchasing it.
Having travel insurance will not only provide financial protection in case of emergencies but also give you peace of mind to enjoy your Everest Base Camp Trekking experience.
Accommodation facilities during 14 Days Everest Base Camp Trekking.
During the 14 Days Everest Base Camp Trek, trekkers stay in teahouses or lodges along the trekking trail. These teahouses are simple, rustic accommodations with basic facilities. The accommodations vary in quality and facilities depending on the location and altitude of the teahouse.
Here's what you can expect from the teahouses.
Rooms : The rooms in the teahouses are usually small and basic, with twin beds or bunk beds. The rooms have thin walls and may not provide complete privacy. Bedding is provided, but it's recommended to bring a sleeping bag for extra warmth.
Common Areas : Most teahouses have a common area that serves as a dining hall and a gathering place for trekkers. These areas have a fireplace or stove for warmth, and trekkers can relax, socialize, and share their experiences.
Meals : Teahouses provide meals, and the food served is mostly Nepali and Tibetan cuisine. The meals typically include dal Bhat (lentil soup and rice), momo's (dumplings), noodles, and soups. Some teahouses also serve western dishes like pizza and pasta. It's essential to drink plenty of fluids, and teahouses offer tea, coffee, hot chocolate, and soft drinks.
Bathrooms : Most teahouses have shared bathrooms that may be outside the main building. The bathrooms usually have squat toilets and may not have hot showers, especially at higher altitudes.
Charging facilities : Electricity is limited in the teahouses, and the use of electrical appliances like phones and cameras may incur extra charges. It's best to bring a portable charger for backup.
Overall, the teahouses provide basic but comfortable accommodation during the Everest Base Camp Trek. It's essential to book accommodation in advance, especially during peak trekking season, to ensure availability.
Communication on Everest Base Camp Trek.
Communication facilities are available during the Everest Base Camp Trek, but the quality and reliability of the communication may vary depending on the location and altitude of the trekking route. Here are the communication facilities available during the trek:
Mobile network coverage : Mobile network coverage is available on most parts of the trekking route, but the network quality and signal strength may vary. Nepal has two main mobile network providers, Ncell and Nepal Telecom, and both have a presence in the Everest Region.
Internet : Most teahouses offer Wi-Fi services for a fee, but the quality and speed of the Wi-Fi may not be reliable, especially at higher altitudes. It's best to check with the teahouse owner regarding the availability and cost of Wi-Fi services.
Satellite Phones : Satellite phones are available for rent in some teahouses or from trekking agencies. They are useful in case of emergencies or if there's no mobile network coverage.
Internet cafes : Internet cafes are available in Kathmandu and some towns along the trekking route, but the speed and quality of the internet may not be reliable.
Trekking agencies.
Trekking planner Inc can help arrange communication facilities for their clients, including satellite phones and emergency rescue services.
It's important to note that communication facilities may not be available in some remote areas, and it's best to be prepared for limited communication during the trek. It's recommended to inform family and friends of your itinerary and to have a contingency plan in case of emergencies.
Washing and Toilet facilities on the Everest Base camp trek.
Washing and toilet facilities during the Everest Base Camp Trek are basic and simple, and their quality and availability may vary depending on the location and altitude of the trekking route. Here's what you can expect:
Washing Facilities: Most teahouses provide washing facilities like a bucket of warm water or a tap with running water. Hot showers are available in some teahouses, but they may cost extra. It's recommended to bring biodegradable soap and a towel for washing.
Toilets: Toilets on the Everest Base Camp Trek are mostly squat toilets, and they are usually located outside the teahouses. The quality and cleanliness of the toilets may vary, and it's best to bring your toilet paper. Some teahouses charge extra for toilet paper.
Bring wet wipes and hand sanitizer: It's recommended to bring wet wipes and hand sanitizer for personal hygiene. Wet wipes can be used for cleaning, and hand sanitizer can be used to keep hands clean.
Waste Management: The Everest Region is a sensitive ecological area, and it's important to follow the principle of Leave No Trace. This means that all waste, including human waste, should be properly disposed of. Some teahouses have modern composting toilets that are environmentally friendly. It's important to follow the teahouse owner's instructions regarding waste management.
Overall, washing and toilet facilities on the Everest Base Camp Trek are basic but adequate for the trekking experience. It's important to maintain personal hygiene and be mindful of waste management practices to minimize the impact on the environment.
Outline Itinerary- 14 Days Everest Base Camp Trek.
Day 01: Arrival in Kathmandu and trip preparation, 1,350m/4,429ft.
Day 02: Fly to Lukla, 35 min flight and trek to Phakding, 2,830m/9,187ft, 3-4 hrs. walk.
Day 03: Trek from Phakding to Namche Bazaar, 3,438m/11,280ft, 5-6 hrs. walk.
Day 04: Acclimatization Day in Namche Bazaar, 3,438m/11,280ft.
Day 05: Trek from Namche Bazaar to Tengboche, 3,870m/12,697ft, 5-6 hrs. walk.
Day 06: Trek from Tengboche to Dingboche, 4,360m/14,305ft, 5-6 hrs. walk.
Day 07: Dingboche, Acclimatization, 4,360m/14,305ft.
Day 08: Trek from Dingboche to Lobuche, 4,940m/16,208ft, 5-6 hrs. walk.
Day 09: Trek from Lobuche to Gorakshep, visit Everest Base Camp, 5,364m/17,599ft, 6-7 hrs. walk.
Day 10: Trek from Gorakshep to Kala Patthar to Pheriche, 5,545m/18,193ft, 7-8 hrs. walk.
Day 11: Trek from Pheriche to Namche Bazaar, 3,438m/11,280ft, 6-7 hrs. walk.
Day 12: Trek from Namche Bazaar to Lukla, 2,800m/9,187ft, 6-7 hrs.
Day 13: Fly to Kathmandu, 1,350m/4,429ft, 35 min flight.
Day 14: Final departure.